About that research primate "shortage"…
September 21, 2020
|
News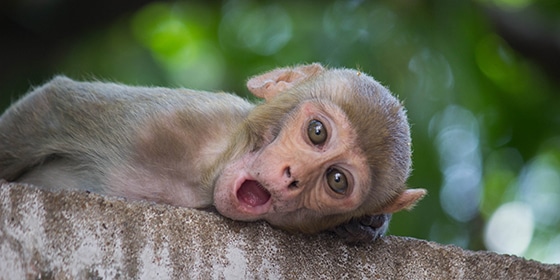 NAVS opposes the use of nonhuman primates—and all animals—in scientific research for both ethical and scientific reasons. Not only is animal experimentation a cruel practice, it can also produce misleading results that sidetrack meaningful scientific progress.
Despite the known limitations of animal experimentation, we've noticed a trend in recent years to use more nonhuman primates in research. One of the most worrisome headlines now in the news is that the U.S. is facing a "shortage" of research monkeys.
Some media outlets have recently published claims that the country doesn't have enough nonhuman primates to test COVID-19 vaccines. According to Koen Van Rompay of the California National Primate Research Center, "Nationally, there is basically a big shortage." Mark Lewis, CEO of Bioqual, a contract research organization that conducts animal experiments, noted, "We can't find any rhesus any longer. They've completely disappeared." The monkey shortage is being attributed to the increased demand for monkeys given the COVID-19 pandemic and the drop in supply of monkeys from China during this time.
Is there really a shortage of nonhuman primates, or is this just propaganda being pushed by the animal research community, which for several years has been advocating for increased use of these animals?
Given that nearly 71,000 nonhuman primates were used for research in the U.S. in 2018, the last year for which animal use statistics are available, and that an additional 35,000 nonhuman primates were held, but not used for research that year, it seems hard to believe that there aren't enough nonhuman primates available to the research community.
NAVS would argue that too many nonhuman primates (and other animals)—with the capacity to suffer and feel pain in lab experiments—are already being experimented on. We are working hard to reverse this troubling trend.
To learn more about this important topic, we would like to invite you to participate in an important webinar entitled "COVID-19 Research: With or Without Animals?" being hosted by Animals, Climate Change and Global Health on Friday, October 16. The webinar is being moderated by Dr. Kathrin Herrmann of Johns Hopkins Center for Alternatives to Animal Testing. NAVS has been working closely with Dr. Herrmann and other leading experts on the issue of reducing the number of—and even replacing entirely—nonhuman primates used in experimentation.
Over the past year, NAVS has been developing a new framework through which the scientific community—and the public at large—can explore the ethical and scientific ramifications of nonhuman primate research. This is a necessary first step toward our goal of reversing the trend of increased use of nonhuman primates.
We look forward to sharing the findings from the COVID-19 panel, as well as more about our work with Dr. Herrmann and additional progress that we are making on this initiative in the near future.
Help NAVS continue supporting smarter science that advances discovery, innovation and human-relevant solutions without the use of harmful, flawed and costly animal experiments by donating here.
Sources:
APHIS Annual Report Animal Usage Reports, APHIS website.
Rodriguez, A. "America is facing a monkey shortage as demand skyrockets for COVID-19 research, experts say," USA Today, September 10, 2020.
Zhang, S. "America Is Running Low on a Crucial Resource for COVID-19 Vaccines," The Atlantic, August 31, 2020.