Catching up with IFER Fellowship Recipient Aline Zbinden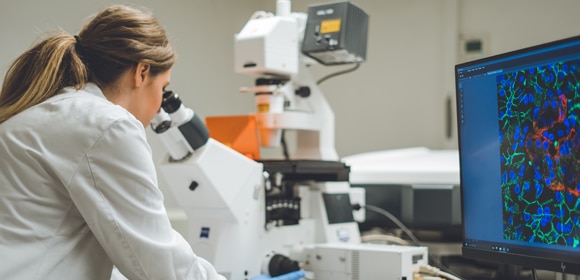 This week's Science First highlights the work of Aline Zbinden, recipient of the International Foundation for Ethical Research (IFER) Graduate Fellowship for Alternatives to the Use of Animals in Science, which NAVS helps fund.
We recently had the opportunity to touch base with Aline, whose project involves creating an in vitro diabetes model, using organ-on-a-chip technology, to overcome the scientific and ethical limitations of using animal models for these studies. The project is currently in its second year of IFER funding.
Over the last year, Aline has been conducting proof-of-principle studies to show the scientific community the benefits of using in vitro models, like organs-on-chips, in their research. She has also optimized her device and made it user friendly, so that a scientist familiar with in vitro models could feel comfortable using it after just one day of training.
"We showed that the pancreas-on-a-chip responds to sugar (i.e., glucose) and secretes insulin, as would happen in the human body," she noted. "More importantly, we showed that this insulin response is biphasic (meaning it occurs in two phases), which is a characteristic that is not found in animal models, such as mice."
Aline faced some unexpected challenges last year because of the COVID-19 pandemic.
"I considered myself lucky, as our lab has quickly adapted to the safety measures and we could continue working at a slower pace. The only significant delay we had was regarding certain experiments where we gave away our supply to the Corona Test Centers. I am glad we did!"
Over the last year, Aline has not been able to attend scientific conferences; however, she has been extremely busy writing up her scientific research for publication and disseminating her research findings and information about humane and human-relevant models with others in the scientific community. To date, she has published four manuscripts about her work.
Aline will be wrapping up her Ph.D. studies by the end of this summer and will pursue postdoctoral studies where she plans to keep designing and working with in vitro models.
She is thankful to have support from IFER for her research and recognizes the importance of conducting humane research.
"As an IFER fellowship recipient, the funding is more than a means to purse my project," she tells us. "It is a responsibility to ensure that I can make my contribution to reduce and replace animal models."
NAVS wishes Aline continued success in her project and is honored to count her among the growing number of IFER fellowship recipients who are leading the next generation of humane scientists.