NAVS Alumni Spotlight: IFER Fellowship Recipient Danh Truong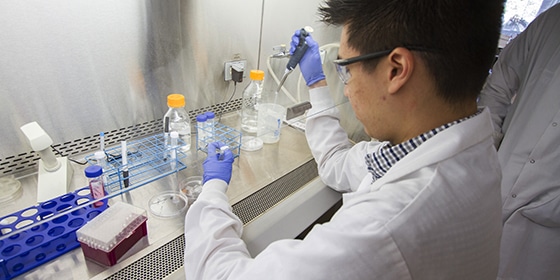 As the first installment of our new "NAVS Alumni Spotlight", this week's Science First highlights the work of Danh Truong, a former recipient of the NAVS/International Foundation for Ethical Research (IFER) Graduate Fellowship for Alternatives to the Use of Animals in Science.
We recently had the opportunity to touch base with Danh (pictured above in his former lab at Arizona State University). Danh developed a 3D microfluidic device to study breast cancer invasion while he was an IFER fellow and graduate student at Arizona State University from 2016-18.
Looking back on his graduate school research, Dahn recalled why he chose a project that relied on non-animal approaches.
"While everyone is familiar with petri dishes and animal models," he noted, "not everyone realizes the shortcomings of these models that lead to drug candidates that fail in clinical trials…The use of animal models, while knowing that false positives may be produced, is itself inhumane…I wanted to be a part of a growing field that would hopefully be an integral part of the drug discovery pipeline. This led me to develop an alternative approach to animal models for studying cancer."
Danh's research focused on developing a human-relevant cell-based cancer model that better accounts for how the environment surrounding the tumor influences cancer growth, invasion and response to treatment—something missing from most commonly used models.
"Using this system," he said, "we found key interactions between cancer-associated fibroblasts and breast cancer cells that promoted breast cancer invasion in our device."
These days, Danh is conducting his postdoctoral studies at the University of Texas MD Anderson Cancer Center. His current research involves using in vitro methods and human clinical samples to study soft tissue sarcomas and bone sarcomas. While he isn't currently developing non-animal methodologies, he plans to when he transitions into a faculty role.
Danh credits the NAVS/IFER fellowship for shaping his professional trajectory.
"Being awarded the fellowship greatly enhanced my confidence for pursuing a career in academia," he noted. "I feel that I can really make a difference in science. As an IFER fellow, I felt more comfortable pursuing science and more confident that my findings were significant and would make an impact. I do not take earning [the IFER] fellowship for granted and I truly believe that I would not be in my current position without it."
As for advice to students interested in pursuing humane science, Dahn offered the following:
"I would tell students to be persistent and stay curious. Our curiosity drives us to finding interesting and novel ways for generating new non-animal methodologies. It is only by being curious we came up with some of the models that we have today. Being persistent means that you must continue even you hit roadblocks. Not all ideas that you generate will pan out, but if you truly believe that it could make a difference, then you must be persistent."
We couldn't agree more.
NAVS wishes Danh continued success in his project at MD Anderson and is thankful for his efforts to advance science without harming animals. We're honored to count him among the growing number of IFER fellowship recipients who are leading the next generation of humane scientists.
Help NAVS and IFER support smarter science—such as Danh's—that advances discovery, innovation and human-relevant solutions without the use of harmful, flawed and costly animal experiments by donating here.