NAVS Alumni Spotlight: IFER Fellowship Recipient Georgina Harris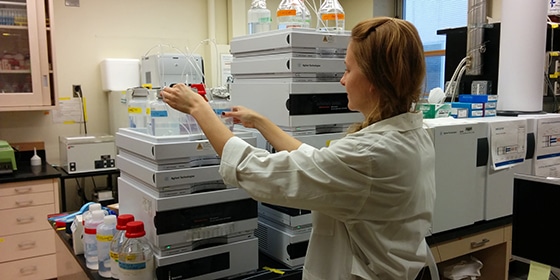 This week's Science First "NAVS Alumni Spotlight" catches up with Georgina Harris, recipient of the NAVS/International Foundation for Ethical Research (IFER) Graduate Fellowship for Alternatives to the Use of Animals in Science from 2013-17.
NAVS and IFER supported Georgina's research efforts at the Johns Hopkins Bloomberg School of Public Health. Her work focused on establishing methods for assessing developmental neurotoxicity in vitro using human cells. Georgina wanted to conduct her graduate studies at Johns Hopkins because its Center for Alternatives to Animal Testing was one of the first centers in the United States to focus on the 3R's (replacement, reduction and refinement) of animal use and alternative methods. We recently had the opportunity to touch base with Georgina (pictured above in her Johns Hopkins lab in 2014). We asked her to reflect upon her graduate work and how receiving a fellowship from IFER influenced her education and professional trajectory.
"As a non-resident of the United States, this grant allowed me to pursue my research at one of the top universities in the world, which opened many career options for me," Georgina said. "The structure of the fellowship, which included bi-annual reports, gave me experience in project management and delivering results within a specific timeline, leading to over seven publications linked to the project. The fellowship also supported me in my network, giving visibility to my work and opportunities at different conferences where I was able to gain experience presenting and disseminating my research. This experience enriched my CV, opening many different opportunities."
Georgina is currently a journal manager at Frontiers, an open access scientific publisher, and is also a consultant for grant applications and research articles focused on animal alternatives.
During our chat with Georgina, she offered words of wisdom for students who are interested in pursuing the field of humane science.
"Humane scientific research is the future," Georgina noted. "The revolutionary shift towards non-animal and non-cancer tissue cell lines has had a positive impact on reducing animal research. Current advances in technologies have made humane science more feasible and less costly, avoiding unnecessary pain and suffering to animals. Moreover, human-relevant models can help us study mechanisms, disease pathways or genetic risk factors which, with the aid of computational tools, can be translated to human therapies, preventive measures and epidemiological findings. I would recommend applying for grants such as IFER's Graduate Student Fellowship to support your work and increase its dissemination."
Georgina also offered her thanks to NAVS and IFER for helping fund her graduate research project.
"I am very grateful for IFER's support during my graduate research and also for catching up with me now, specifically to Pamela [Osenkowski] and Peggy [Cunniff] who supported me at some conferences we met at. The research groups and fields within animal alternatives are still relatively small and you will find great people to work with and a network which supports your career steps throughout your professional development."
We wish Georgina continued success and are thankful for her efforts to advance science without harming animals. We are honored to count her among the growing number of IFER fellowship recipients who are leading the next generation of humane scientists.
Help NAVS and IFER continue supporting smarter science—such as Georgina's—that advances discovery, innovation and human-relevant solutions without the use of harmful, flawed and costly animal experiments by donating here.