NAVS Alumni Spotlight: IFER Fellowship Recipient Ingrid Knarston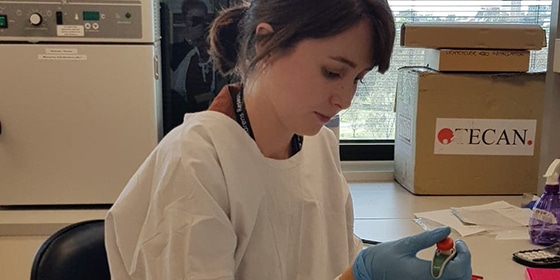 This week's Science First "NAVS Alumni Spotlight" catches up with Ingrid Knarston, recipient of the NAVS/International Foundation for Ethical Research (IFER) Graduate Fellowship for Alternatives to the Use of Animals in Science from 2018-19.
NAVS and IFER supported Ingrid's research efforts at the University of Melbourne/Murdoch Children's Research Institute in Australia. Her work focused on developing a human-based in vitro model to study human reproductive conditions and disorders of sex development. Ingrid used human induced pluripotent stem cells to generate testis organoids for her studies. While protocols to differentiate stem cells into testis cells had been established, they relied on the use of animal-derived products. Ingrid's research project also sought to optimize the differentiation protocol to generate testis organoids without the use of such products.
We recently had the opportunity to touch base with Ingrid and asked her to reflect upon her graduate work.
"Traditionally the discoveries in this field have relied upon mouse or other animal models," Ingrid noted. "I was interested in this project as it meant developing a model that was both humane and also a better (closer!) representative of human development."
When asked how receiving a fellowship from IFER influenced her education and professional trajectory, Ingrid said, "Receiving this fellowship was a huge honor. Ultimately it provided [our laboratory] the much-needed funding to complete aspects of this research project so that we could optimize this lab technique to a point that we were able to publish this work and share it with the research community."
Ingrid is currently an associate editor at Nature Research journals. While she is no longer conducting research, she still remains actively engaged in the genetics and genomics research community.
During our chat with Ingrid, she offered words of wisdom for students who are interested in pursuing the field of humane science.
"There is a huge amount of exciting research being done in humane science," Ingrid noted. "For me it was really challenging and rewarding work. I would encourage students to reach out to scientists working in these fields to learn more and find out what interests them."
We wish Ingrid continued success and are thankful for her efforts to advance science without harming animals. We are honored to count her among the growing number of IFER fellowship recipients who support the next generation of humane scientists.
Help NAVS and IFER continue supporting innovations in smarter science – such as Ingrid's – that advance the discovery and use of human-relevant solutions without the use of harmful, flawed and costly animal experiments by donating here.