Sanctuary Spotlight: Meet Kera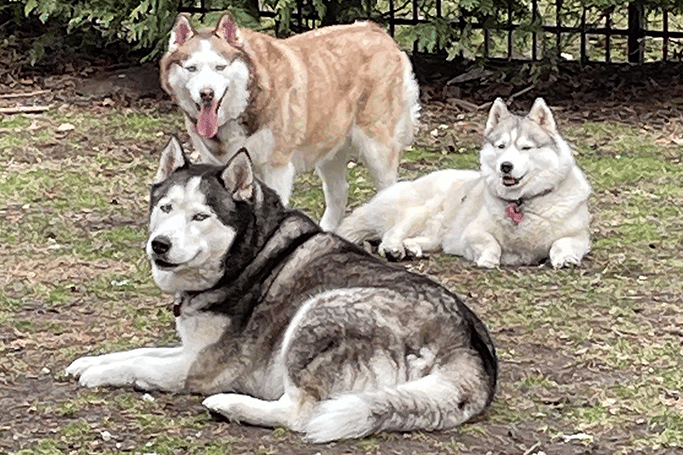 In the summer of 2020, A Pathway to Hope, an animal rescue group in North Haledon, New Jersey, reached out to NAVS to request emergency assistance for Kera, a Siberian husky who had been sent to the United States for urgent medical care after being left to die on the streets of Egypt with two badly broken legs. She managed to survive her ordeal in Egypt and her overseas trip, but her fate was anything but certain.
The extent of her injuries meant Kera required expensive orthopedic surgery. Thanks to the generosity of NAVS supporters, we awarded a sanctuary grant to A Pathway to Hope to assist with Kera's surgery expenses. Now, two years later, Kera is happily living her best life with her foster family, who adopted her after falling in love with her determined spirit. She goes for daily walks and still goes for monthly therapy, which helps to keep her active.
Kera (pictured, in middle) is surrounded by an extended family of four-legged friends, including her sister Scarlett and two "cousin" huskies. Her foster mom tells us that "Kera continues to keep us smiling with her positive attitude and sweet nature…We are so thankful to have this crazy girl as part of our family. I love to tell her story how she came all the way from Egypt with injuries to two legs…and look at her now. She is quite the princess!"
Here is to a well-deserved happy ending for Kera!