Ever Heard of a "Build-a-Body" Workshop?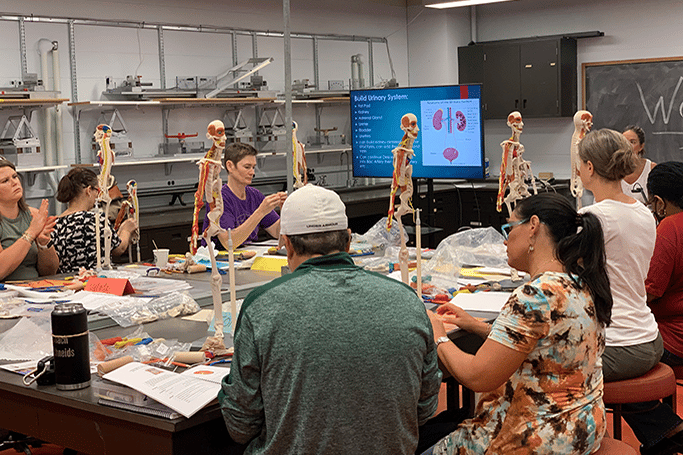 "It's good to be back in person."
That's what J.P. Theriault told the NAVS team during Anatomy in Clay's professional development session at the University of Illinois Chicago (UIC). J.P. is an education consultant with Anatomy in Clay, one of the humane dissection alternative manufacturers featured in NAVS' BioLEAP catalog. This summer's workshop was the first in-person event Anatomy in Clay has been able to host since the COVID shutdown two years ago.
Traditionally, anatomy has been taught by taking a body apart piece by piece. But Anatomy in Clay offers a different solution: teach students how a body works by having them actually build a body.
Although the company has recorded many on-demand instructional videos that teachers can access online, the value of learning from an in-person instructor was obvious to the attendees, several of whom had traveled from out of state for the event.
Among those coming in from out of town were two teachers from Des Moines, Iowa, whose high school had stopped using animal dissection during the pandemic e-learning period and are now looking into non-animal dissection models that they can use for in-person learning. Their solution? Anatomy in Clay's MANIKEN® model.
Other attendees of the workshop included a diverse range of educators from massage therapy instructors to college professors, all gathered in a lab room on the UIC campus for the purpose of learning how to use Anatomy in Clay's tools in their own classrooms.
Starting with a step-by-step guidebook, a skeletal framework, modeling tools, and several lumps of brightly colored clay, attendees spent two days reviewing an entire curriculum's worth of anatomy lessons as they created intricately detailed models of the muscular, nervous, digestive, urinary, cardiovascular and lymphatic systems.
Guiding the workshop was Anatomy in Clay's expert instructor Christine Simonsen, who not only demonstrated how each clay organ should be constructed, but also shared extra tips that teachers could use to augment their lessons.
One fun teaching moment she loved was asking her students to calculate the proportionally correct length of the small intestine for their model. The average length of the small intestine in an adult is 20 feet long—when scaled down to the size of the 29" MANIKEN® model, students still needed to roll out six feet of clay! It was certainly an amusing moment for the NAVS team watching a room full of educators struggling to fit six feet of clay into their models' torsos.
Thanks to Anatomy in Clay for allowing NAVS the opportunity to see this exciting humane educational resource in action. To learn more about the Anatomy in Clay models, visit their website at anatomyinclay.com. And be sure to visit BioLEAP.org for many more humane science resources.