Gallup Poll Holds Disappointing News for Animals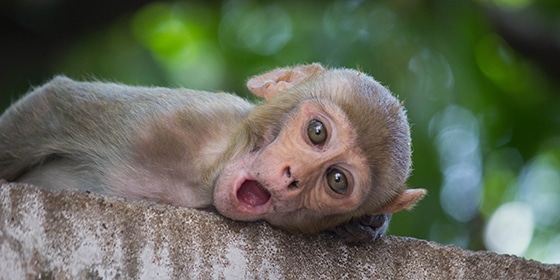 How do Americans feel about medical testing on animals? A Gallup poll that has been tracking responses to this question since 2001 revealed last week that 56% of Americans view medical testing on animals as "morally acceptable."
The good news is that this number is still down dramatically from 2001, when 65% of respondents held that belief.
The bad news, however, is that this value represents an increase over last year in public approval of animal testing. In 2019, 51% of Americans found medical testing on animals to be morally acceptable. That year was tied with 2017 for the lowest level of support for the practice since Gallup began polling on the issue.
Accordingly, the percentage of individuals who now view medical testing on animals as "morally wrong" has decreased, from 44% last year to 39% in 2020. Again, however, even this disappointing increase still represents a significant improvement over the 26% of Americans who opposed the practice when Gallup began surveying on the topic in 2001.
This slight shift in opinion on animal use was mirrored in other questions pertaining to animal-related issues, including animal cloning. Last year, 31% of Americans felt that animal cloning was morally acceptable. That number has increased to 34% this year.
While it is premature to speculate on the reason (or reasons) behind these shifts, it is worth noting that this year's Gallup poll was conducted in early May, during the peak period of COVID-19-related quarantines and shutdowns across the U.S—a time when many researchers were quick to turn to animal models in an attempt combat the virus.
However, NAVS is encouraged now to see researchers who are using human-relevant non-animal models to study this virus. We're excited by the use of human organoid or "organ-on-chip" models, as well as in silico computer-based models, to identify potential COVID-19 therapies that do not rely upon cruel, outdated, time-consuming animal tests.
Nonetheless, we are disappointed by the small shift Gallup is reporting regarding public perception on these animal-related issues. But we have seen shifts like this in the past and have been able to reverse course to keep the trend moving in the right direction. News like this only makes our commitment to replacing cruel, costly and flawed animal experiments with humane, innovative methods of research even stronger.
Although the animals used in medical research do not have a voice, you do. Please visit the NAVS Advocacy Center where you can continue to be the voice for the voiceless and ensure that we continue the momentum to end animal experimentation.
And please consider making a donation to NAVS today so that we can continue our vital work to end the exploitation of animals used in science. Thank you!
Source:
Gallup Polls