Happy Trails to Ewes and Horses and Goats and Cows and…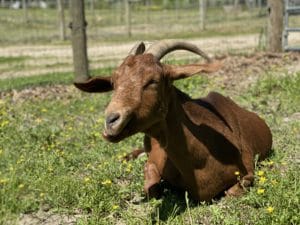 Last fall, Happy Trails Farm Animal Sanctuary in Ravenna, OH, took on a large-scale rescue project, saving more than 30 animals — including goats, mini horses, sheep, donkeys, cows, chickens and alpacas — from a hoarding situation in Trumbull County.
A NAVS Sanctuary Fund grant helped defray the cost of the urgent medical care for many of these animals. We also assisted Happy Trails in their efforts to provide the conditions necessary for these animals to recover, find homes and start their new lives! We recently had the pleasure of talking with the Happy Trails team and learn more about the extraordinary effort that went into a rescue of this magnitude.
---
NAVS: Tell us a little bit about Happy Trails. When were you founded? What is your mission? How did this sort of dovetail into a need for this service?
Happy Trails Farm Animal Sanctuary: We were founded officially in 2001, although our founder started doing this work on her own in 1998. While pet sitting, she found a pig named Janice in dire need of assistance. Reporting it to the local humane agent [someone who investigates cases of animal abuse], she found there was no such assistance in cases of farm animal [criminal] abuse, and that is how it all started.
We work in cooperation with law enforcement to rescue and re-home criminally abused farm animals and horses. We have worked with Trumbull County before with our organization and so they knew to call us because we have assisted in the past. They will ask us often times to assist at the scene, to evaluate animals, and certainly to assist with the physical seizure of animals.
NAVS: This situation in Trumbull County was a little different from your usual rescues, though. Can you walk us through it?
HTFAS: It was a larger scale, and in this instance, it was a little more involved because there was not an accurate inventory of what animals were on the property. And often, especially in hoarding cases like this, the owners are suffering from a mental condition, which complicates matters. When we knew it was going to be large-scale, it was kind of "all-hands-deck" to get the teams together that we needed to do this as efficiently as possible. The humane officers don't have trailers, trucks with trailer rigs, or the people skilled or trained to handle these kinds of animals, so that is where we come in. We needed three rigs in our convoy in order to go in and handle the situation. These rescues are multi-faceted. It is kind of amazing how it gets done.
NAVS: Can you tell us about some of the animals and the situation you found when you arrived?
HTFS: The conditions were deplorable and absolutely disgusting. Some of the animals we pulled out were literally dying. if you would have walked on the property with us, you would have seen a menagerie of misfit animals that had no way out. I think there were 33 total. When we got there, the front of the property was basically a car lot – a lot of broken-down vehicles – and you could not really see the animals until you got around to the side of the house.
There were two stalls, one with two alpacas. In the other stall, there was a very skinny and old pony gelding. All of the animals' feet were severely overgrown. The pony had absolutely no water, and there was no hay in the stall. As you got farther back into the property, it was essentially just dog kennels; most of the animals were separated [into these kennels]. you would have [kennels with] three goats, or a cow and two minis and a sheep, one had a mother sheep and her two lambs – hardly ideal conditions. There was really no way to open most of the areas, so the animals were stuck in these tiny enclosures standing in their own filth. There was a downed horses [a horse who can no longer stand on their own] in the middle of the backyard, that you could tell had been down for some time.
NAVS: Are there any other specific animals that stand out in your mind?
HTFAS: There was one goat, and she was very old and absolutely emaciated. Our vets scored her the lowest she could possibly be – one out of nine. At the rescue, it felt like she was just ready to go. We ended up having to carry her to the trailer. But she had so much will power! Even the vet felt like she had this will power. All the past neglect in combination with her being old caught up with her, and it became a long battle. She would go from eating [and doing better] to not wanting to eat for a few days and slipping back. It was very up and down, but we were able to get her the best treatment and give her the best life we could so that she could live out the rest of her days peacefully.
NAVS: So what's next for the animals?
HTFAS: A lot of ongoing aftercare. The animals came back to Happy Trails for evaluation, and we're holding them for the duration of the [hoarding] case. There's ongoing evaluation by our vets. In a lot of cases [of criminal neglect] you will see upper respiratory issues, lice and a lot of overgrown hooves that create hoof infections and limb deformities, so we use a livestock vet and a vet specifically for our equine.
Then we wait. We take care of the animals. We hope for full rehabilitation. We [had to] place some of the animals in foster care, since we did not have the capacity to take on full-time care for all these animals. So we did place some in foster-to-adopt [situations].
Big picture, I consider us like a hospital, where you go to get the attention and the care that you need to get healthy, but the remainder of your healing happens when you finally go home.
This story originally appeared in the Summer 2020 issue of Animal Action.