NAVS Alumni Spotlight: IFER Fellowship Recipient Bryan Hassell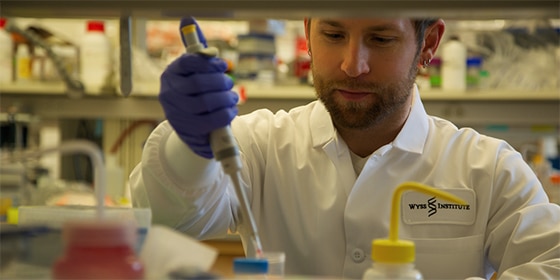 This week's Science First "NAVS Alumni Spotlight" catches up with Bryan Hassell, recipient of the NAVS/International Foundation for Ethical Research (IFER) Graduate Fellowship for Alternatives to the Use of Animals in Science from 2014-16.
NAVS and IFER supported Bryan's research efforts at the Wyss Institute for Biologically Inspired Engineering at Harvard University, which focused on developing an organ-on-a-chip platform to determine how lung cancer cells respond to chemotherapy and to identify new anticancer therapies.
We recently had the opportunity to touch base with Bryan (pictured above in his Wyss Institute lab in 2014) and ask him to reflect upon his graduate school research project. Bryan said that he chose a project that relied upon non-animal methodologies for two reasons.
"One was that the technology seemed promising enough that it actually could be successful in becoming an animal replacement," he told us. "Two, accelerating human-based preclinical models can also have a huge impact on the disease world and patients."
Bryan credits the IFER fellowship for opening many doors for him professionally.
"Many people saw the [IFER] video and read about the work through press releases," he said. "[It] ultimately led to someone reaching out to me who wanted me to work with them after my PhD. The visibility of the project and positive exposure helped me get a job!"
Bryan is currently the co-founder and chief technology officer of a biotech startup called Nirrin Technologies. While developing alternatives to animal testing in his graduate studies, Bryan recognized that the lack of sensors for technologies like organs-on-chips hindered the development of these human-based models. One of the projects currently active at Nirrin is the development of such sensors to help push those technologies forward.
During our chat with Bryan, he offered words of wisdom for those students who are interested in pursuing the field of humane science.
"Though working on humane science might be more difficult—it's easier to inject a mouse with cancer than to build and develop and validate your own human cancer model—it is worth it," he noted. "The future lies in humanized models of disease. Investing time in it now is what we need to do."
We wish Bryan continued success and are thankful for his efforts to advance science without harming animals. We are honored to count him among the growing number of IFER fellowship recipients who are leading the next generation of humane scientists.