NAVS Alumni Spotlight: IFER Fellowship Recipient Jean Liou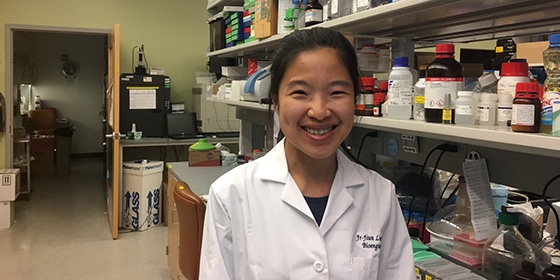 For the next installment of our "NAVS Alumni Spotlight" series, this week's Science First catches up with Jean Liou, a past recipient of the NAVS/International Foundation for Ethical Research (IFER) Graduate Student Fellowship for Alternatives to the Use of Animals in Science.
We recently had the opportunity to connect with Jean and learn what she has been up to since being awarded the IFER fellowship for her project, which was aimed at developing an animal-free model to study potential therapies for osteoarthritis in her lab at the University of Pittsburgh.
With the support of IFER from 2016 to 2018, Jean developed an animal-free, three-dimensional model that mimics the anatomic and physiological characteristics of the bone/cartilage interface—a primary site of tissue degeneration in osteoarthritis. This model allowed her to study joint development and the development of osteoarthritis, as well as to screen drugs to treat this debilitating condition.
Jean explained why she chose a project that relied on non-animal approaches for her graduate studies.
"There are currently no effective preventative or disease-modifying osteoarthritis drugs," she noted, "due in part to the poor physiological congruence between animal models and humans during drug testing." To address this deficiency, Jean said, she "decided to develop a three-dimensional in vitro model made up of human stem cells that can develop into and mimic the anatomical and physiological characteristics of our target tissue—the articular joint."
Jean also reflected on how receiving the IFER fellowship helped her to advance her professional trajectory.
"It was my honor to be an IFER fellowship recipient," she noted. "Through IFER, I learned how to talk about my research in layman's terms and, every once a while, 'zoom out' a little bit and look at the entire project from a clinical viewpoint. It also highlighted my research abilities to my committee members and faculty within the department."
Currently, Jean is continuing her work at the University of Pittsburgh. Her post-doctoral research focuses on understanding glaucoma, a disease that causes vision loss and blindness. She is using cells from human donor eyes to do so.
Jean hopes her progress can demonstrate a path forward for other students who are interested in pursuing animal-free research:
"There are many different ways to answer scientific questions. It can be computational simulations using big data and clinical research. It can also be human cell-based organs-on-a-chip! These in vitro platforms utilize human cells and allow a high throughput approach where environmental, genetic, and biomechanical factors can be effectively and efficiently controlled – ideal for studying tissue development, the pathogenesis of the disease, and therapeutic drug screening."
NAVS wishes Jean continued success at The University of Pittsburgh and is thankful for her efforts to advance science without harming animals. We are honored to count her among the growing number of IFER fellowship recipients who are leading the next generation of human scientists.
Help NAVS and IFER support smarter science—such as Jean's—that advances discovery, innovation and human-relevant solutions without the use of harmful, flawed and costly animal experiments by donating here.