U.S. Government Invests in Non-Animal "Tissue Chips"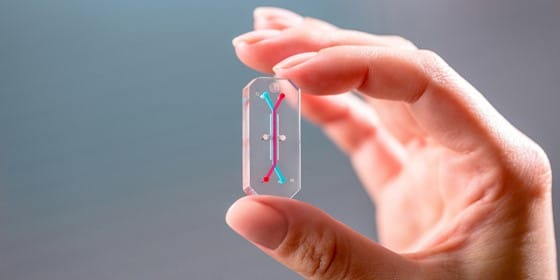 Over the last several years, NAVS has shared exciting advances that are being made with tissue chips—three-dimensional bioengineered devices made from human cells designed to accurately mimic the function of human tissues and organs. The need for these sophisticated models has grown in large part due to limitations with existing cell and animal models.
We are pleased to report an exciting new program focusing on these devices, developed by the National Center for Advancing Translational Science (NCATS). NCATS, in collaboration with the Defense Advanced Research Projects Agency and the U.S. Food and Drug Administration, initiated the Tissue Chip for Drug Screening Program in 2012 to develop bioengineered devices to test the effects of drugs prior to human clinical trials. This program aims to improve the drug development process and overcome the approximately 85% failure rate of candidate drugs in late-stage clinical trials.
Another new program, Clinical Trials on a Chip, has been developed as part of this effort. In this program, the National Institutes of Health will be awarding more than $35 million over the next five years to help improve the design and implementation of clinical trials through the development of tissue chips to study diseases and test drugs.
Ten grants have been awarded to researchers with expertise in clinical trial design, disease biology, engineering, computational biology and other areas of science. Researchers will use these grants to aid in the development of tissue chips, which they will then use to model various diseases. They will also develop biological indicators from the tissue chips that correlate with the human clinical condition to examine disease progression and the effectiveness of candidate therapies. Then, the researchers will begin testing drugs on these tissue chips and compare their findings to actual patient results.
Tissue chips offer tremendous potential to serve as innovative, cell-based alternatives to facilitate the drug development process and study disease. Dr. Danilo Tagle, NCATS associate director for special initiatives, sees great promise in these tools.
"We want to see if tissue chips can be a useful platform in which to help researchers preempt some potential challenges with trials," he explains "The teams have to make sure the models are valid and show that data from tissue chips accurately reflect results in people. If tissue chip data can predict which patient populations might benefit the most from investigational drugs, this information could potentially improve clinical trial success rates."
And it just may save animals' lives in the process.
______________
Source: National Center for Advancing Translational Sciences Website. "NIH awards $35.5 million to use tiny, bioengineered organ models to improve clinical trials' development and design," September 29, 2020.