Winning Artwork is Absolutely "Fabulous"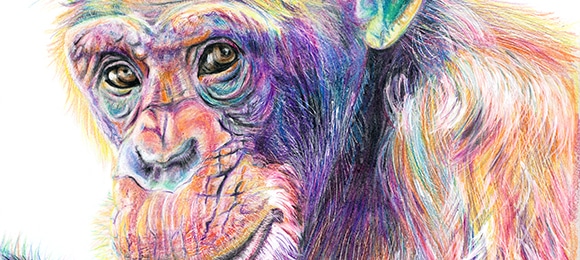 More than 450 artists from around the world shared their creative visions of a more humane, just and compassionate world in NAVS' 33rd annual Art for Animals competition. Topping them all was this year's Best in Show winner, "Fabulous Foxie, created by Thyra Ann Rutter.
We spoke with Thyra about the real-world inspiration for her piece: a chimpanzee named Foxie.

"Foxie was born into an invasive biomedical research facility and used as a breeder," Thyra told NAVS. "While at the facility, she gave birth at least four times. In every instance her babies were removed at birth or within days to be used in biomedical testing. Like most animals used in laboratories, Foxie was kept in a small cage with no natural light, contact or space to engage in natural behaviors. Fortunately for Foxie, she was eventually rescued and retired to Chimpanzee Sanctuary Northwest (CSNW) in Cle Elum, WA. There, Foxie developed a love of various toy dolls, which she carries and treats like the babies she never got to care for."
Foxie, incidentally, was one of the "Cle Elum Seven," a group of chimpanzees who arrived at CSNW in 2008, and whose climbing structures, enclosures and ongoing care are being supported through the NAVS Animal Sanctuary Assistance Program. You can read more about NAVS' support of CSNW here.
Thyra explained that her mission "as a non-human portrait artist is to highlight the individuality of specific beings. Every piece that I create is a specific portrait of that individual, their hopes, fears, history, joys, humor, personality. I want people to look at the work and get a feeling for the gloriously unique individual being portrayed."
NAVS judges found "Fabulous Foxie" notable for its extraordinary use of color, which Thyra told us was a deliberate choice.
"I wanted to illustrate [Foxie] as a living rainbow, symbolizing beauty and grace that can appear at the end of the darkest storm."
"Fabulous Foxie" was also chosen as NAVS' Fans' Choice winner by our social media followers. First place went to Zohreh Godini's "Peace and Love 2," second place was presented to Brittany Tangen for her piece, "Three's a Crowd," and third place was awarded to Claire Yang for "My Light." Olivia Wang, age 10, was named this year's Youth Award winner for her artwork, "Switched Roles."
Thanks to all of the amazing artists who lent their time, talent and compassion to create stunning Art for Animals. The winning images are below.