Catching up with IFER Fellowship Recipient Xingrui Mou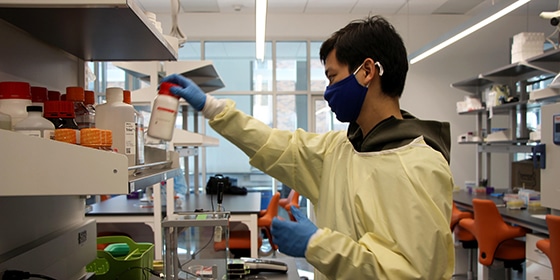 This week's Science First highlights the work of Xingrui Mou, recipient of an International Foundation for Ethical Research (IFER) Graduate Fellowship for Alternatives to the Use of Animals in Science, which NAVS helps fund.
We recently had the opportunity to touch base with Xingrui, whose project involves developing a device that models the structure and function of the human kidney glomerulus, which is the major site for filtering blood. The project is currently in its first year of IFER funding.
"The human kidney glomerulus is the target of many forms of kidney diseases, and researchers have been trying to study such kidney diseases using animals such as mice and rats," Xingrui noted. "However, these animals are different from human beings, and many promising results achieved by animal models cannot be reproduced in human patients. The device we aim to engineer will serve as a better model that more closely resembles human biology and responses. With our engineered model, researchers might be able to study human kidney diseases with little to no use of animal models in the future."
Xingrui was inspired to pursue working with non-animal models for his kidney research in large part because the data derived from animal models do not effectively translate to people.
"Part of the motivation for my work comes from the fact that a large number of animals are often sacrificed for research but results from those studies do not necessarily lead to advancement in biomedical sciences and medicine," Xingrui said. "So there is an urgent need to develop alternative models that can reduce (and ultimately replace) lab animal models and improve biomedical science research so that these research findings can be more efficiently translated to clinics to benefit patients."
Like other scientists across the globe, Xingrui faced some challenges during the COVID-19 pandemic, because his laboratory was shut down until the middle of June 2020. Once the lab reopened, researchers had to work in shifts and very carefully plan their experiments to ensure all tasks could be completed within their assigned time frames. Since then, some of the restrictions have loosened, and researchers are able to work in the lab for longer stretches of time.
During these challenging times, Xingrui has continued to make exciting progress on his project and disseminate that information to others in the scientific community.
"I presented my work in a poster format at the Summer School on Innovative Approaches in Science in June of 2020," Xingrui told us. "The Summer School focused on methods to reduce and replace animal use in toxicology and biomedical research. I presented some of my preliminary results to those in attendance at the Summer School and the audiences were very excited about my project."
Xingrui appreciates workshops like the Summer School, which help bring together researchers to discuss opportunities to reduce and replace the use of animals, particularly through the development of animal-free alternatives.
"I do not think the scientific community is doing enough, perhaps for historical reasons and the way research has been traditionally carried out in the past," he said. "There should be more conferences aimed at bringing together researchers and institutions working on animal-free alternatives as well as those who rely on animal models for much of their work so that these groups can learn more from each other and even develop collaborative efforts."
Xingrui is thankful to have support from IFER for his research, telling us that "this award has been instrumental in helping me make progress in my research and career development." Our funding has helped supplement his research stipend, pay for reagents used in experiments and support his ability to mentor an undergraduate student in the laboratory.
NAVS and IFER wish Xingrui continued success in his project, which he is planning to complete in Spring 2025. From there, he plans to work in industry, focusing on the research and development of organ-on-chip and other in vitro models in a leading biotech company. We're honored to count Xingrui among the growing number of IFER fellowship recipients who are leading the next generation of humane scientists.