Recognizing Excellence in Humane Science at ISEF
Some of the most exciting and challenging opportunities in science education occur outside of the classroom—including student participation in science fair competitions. NAVS believes that students who take part in these fairs should be encouraged to design experiments that promote scientific advancement without harming animals.
To that end, NAVS is proud to be the only animal advocacy group allowed to honor students' humane science efforts at the International Science and Engineering Fair (ISEF), the largest international pre-college science competition in the United States. Each year since 2002, we have presented our Humane Science Award to encourage young students at the earliest stages of their science careers to integrate innovation and discovery with ethics and respect for animals.
By rewarding students who are conducting exceptional work without relying on animal models, NAVS hopes to inspire the next generation of scientists to continue along the path of developing and promoting humane, non-animal approaches.
Cash prizes for first place ($10,000) second place ($5,000) and third place ($2,500) accompany the NAVS Humane Science Award.
As part of our involvement at ISEF, NAVS also tracks the number and types of projects that use animals in order to identify trends and opportunities for the development of alternative methodologies, as well as to offer recommendations to the fair's administrator for rule changes that would provide greater protections for animals.
Following are the past recipients of the NAVS Humane Science Award at ISEF: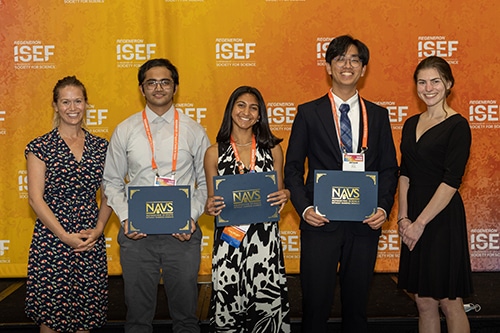 2022
Saptarshi Mallick, first place
Hedgehog Signaling Mediates the Dysregulation of Adrenocorticotropin Hormone Secretion and Somatostatin Receptor Expression in Cushing's Disease
Arthur Liang, second place
A Pharmacological Approach for Studying Alcohol Use Disorder: Using Calcium Imaging on hiPSC-Derived Glutamatergic Neurons to Dissect the Glutamate Response in the Context of Chronic Ethanol Treatment
Maya Butani, third place
Novel Plant-Derived Scaffolds Influence Cellular Mechanotransduction and Differentiation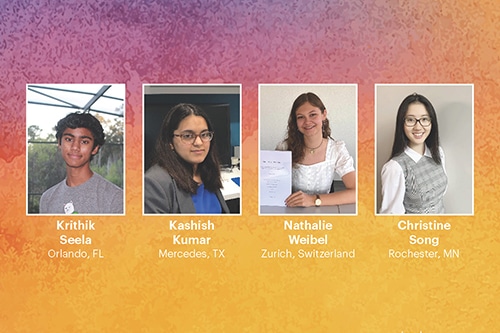 2021
Christine Song, first place
Cure of Breast Cancer, Year 4: First Discovery of Target Therapy for Aggressive Hormonal Breast Cancer using Clinical Database and 3D Model
Nathalie Weibel, second place
Using Fluorescence Imaging to Investigate the Organization of Human Brain Organoids
Kashish Kumar, third place (tie)
Human iPSC-Derived Cardiomyocyte Model Reveals the Transcriptomic Basis of SARS-CoV-2 Infection Induced Myocardial Injury
Krithik Seela, third place (tie)
A Novel Computational Approach to Drug Discovery Through Drug Repositioning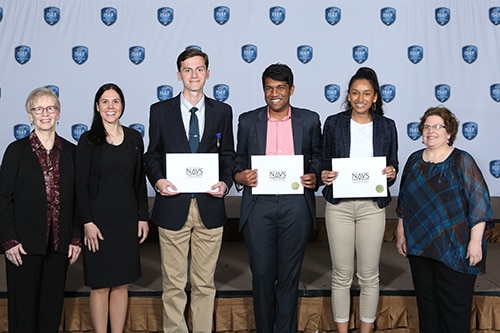 2019
Afiya Quryshi, first place
GATA6 and GATA4 CRISPR Cas-9 and shRNA Technology to Investigate Human Gastric Development and Disease Using Human Organoid Model Systems
Ryan Onatzevitch, second place
Investigation of Aspects of Neuron Function in Schizophrenia Using hiPSC Cells
Madhav Subramanian, third place
ETM* Is Indispensable to Endothelial Cell Physiology during Pathological Angiogenesis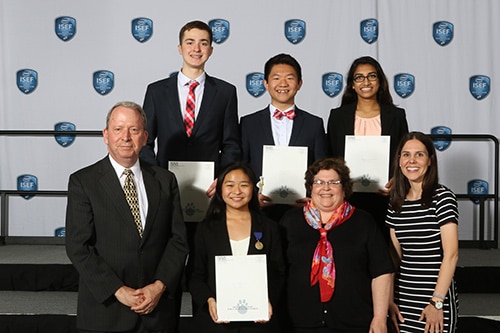 2018
Erin Kajihiro first place
Development of Animal Component-Free Media for the Cryopreservation of Drosophila S2 Cells
Siyuan Ma and Alexander Anderson, second place
Holding Your Heart in Your Hand: 3D-Printing a Mechanically Accurate Aortic Valve Model
Marissa Sumathipala, third place
MiRNet: A Novel in silico Network-Based Approach to miRNA Drug Target Identification for Next Generation Drug Discovery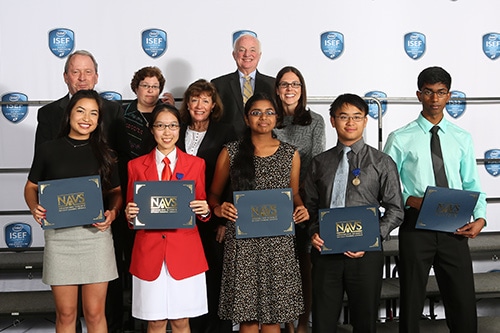 2017
Andrea Teo, first place
Translational Medical Science: Developing a High-throughput Platform for Drug Toxicity Screening
Katherine Miles, second place
Cellular and Molecular Biology: Autism and Genetics: Understanding the Role of AUTS2 in the Pathology of Autism Spectrum Disorder
Vishakk Rajendran, Meena Ravishankar, Jeremy Wang, third place
Animal Sciences: Developing a Novel 3D-Printed Solution to Aid Healing Fractured Wing Bones of Wild Birds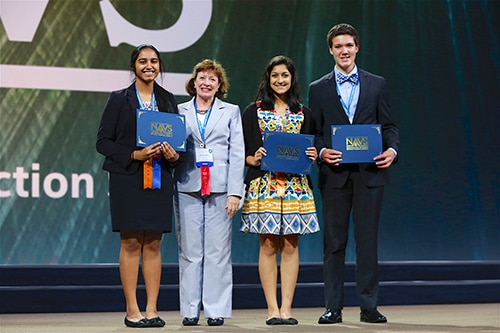 2016
Ralph Lawton, first place
Biomedical and Health Sciences: The Smoking Gun: Toxicological Effects of Electronic Cigarettes on Epithelial Cells using Air Liquid Interface, Year Two
Meghana Rao, second place
Biochemistry: The Differential Effect of Opioids on Breast Cancer Cell Pro-Survival and Pro-Apoptotic Pathways
Rama Balasubramaniam, third place
Biomedical Engineering: The Mechanisms of Glioblastoma Migration in a Bioengineered 3D Brain Model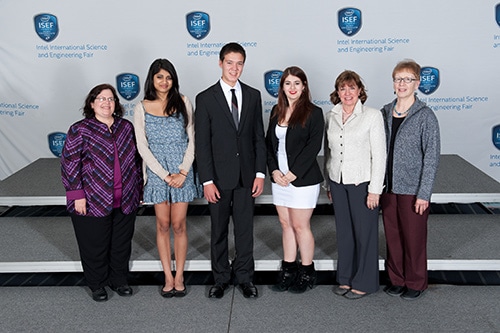 2015
Anisha Valluri, first place
Biomedical and Health Sciences: 3D Tumor Model for Testing Anticancer Drugs
Ralph Lawton, second place
Biomedical and Health Sciences: Don't be Led Ashtray: Toxicological Effects of Electronic Cigarettes on Inflammation and Lung Cell Viability with Comparison by Brand, Flavor, and Generation
Karina Schmidt, third place
Biomedical and Health Sciences: Diabetic Stem Cell Derived Cardiomyocytes in Disease Modeling and Therapeutic Discovery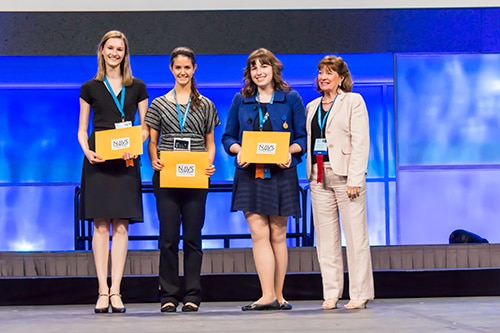 2014
Sara Sakowitz, first place
A Novel Approach for Metastatic Breast Cancer Therapy: Pharmacological Inhibition of EZH2 Histone Methyl Transferase Activity Suppresses Cancer Stem Cells and Induces Epithelial Phenotype
Elizabeth Sobolik, second place
Cellular and Molecular Biology: Generating iPSCs [induced pluripotent stem cells] from Human Adipocytes for Differentiation into Nociceptive Neurons
Golda Shaw, third place
Medicine and Health Sciences: Development of a Novel Blood-Based Diagnostic for Canine Lymphosarcoma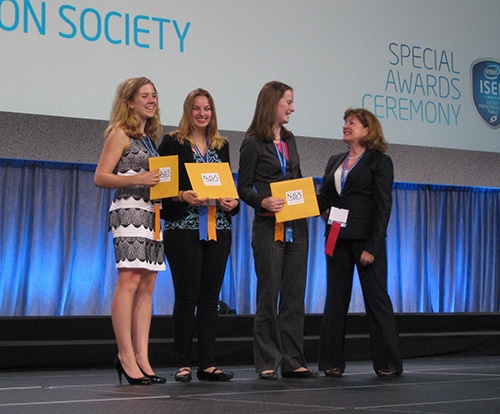 2013
Savannah Tobin, first place
Analysis of Fel d 1 Allergen Transcripts in Felis catus Saliva using Reverse Transcription Quantitative Polymerase Chain Reaction (RT-qPCR)
Samantha Marie Marquez, second place
Advances in the Bottom-Up Assembly of Multicellular Architectures From Neuroengineering to Biodefense
Kelsey Mackenzie Barter, third place
Targeting Survivin as a Potential Cancer Therapeutic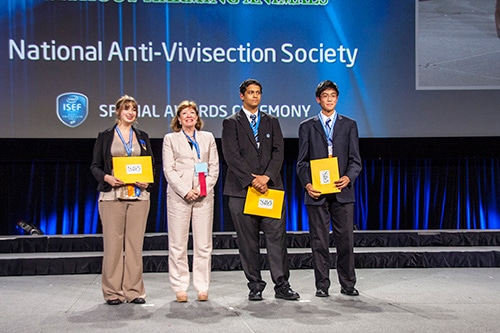 2012
David Liu, first place
Synthetic Nanoparticle-Based Nanozymes for Pancreatic Cancer Therapy
Raghav Tripathi, second place
Toward the Cure: Abnormal Protein Interactions between Amyloid Beta and Tau as a Therapeutic Target for Alzheimer's Disease
Samantha Marquez, third place
A New Frontier in Biomedical Engineering: Ex-situ Bioengineering of Hepato- & Neuro-Celloidosomes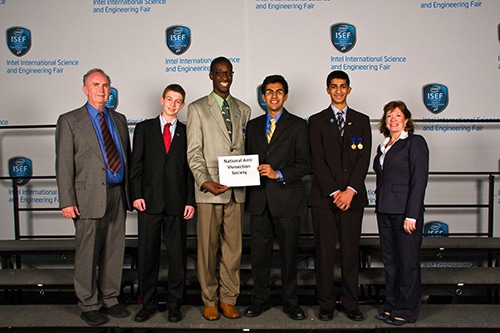 2011
Jayanth Krishman , first place
Regulatory Signatures of Cancer Cell Lines Inferred from Gene Expression Data
Abraham Killanin and Evan Schneider, second place
The Effects of Gold and Platinum Nanoparticles on Dental Pulp Stem Cell Growth and Differentiation
Neal Pathak, third place
Polyfunctionalized Single-Walled Carbon Nanotubes as Novel Scaffolds for Multimodal Tumor-Targeted Therapy and Biological Imaging
2010
Philip Schlenoff, first place
Antibody-Coated Magnetic Nanoparticles: Targeting and Treating Cancer in a Dynamic Environment
Vivian Leung, second place
Morphological and Functional Characteristics of Lower Female Genital Tract Epithelial Cell Cultures in Different Growth Conditions
Athman Adiseshan, third place
Ethology of Friendship among Adult Male Bonnet Macaques (Macaca radiata) at Arunachala Hill, India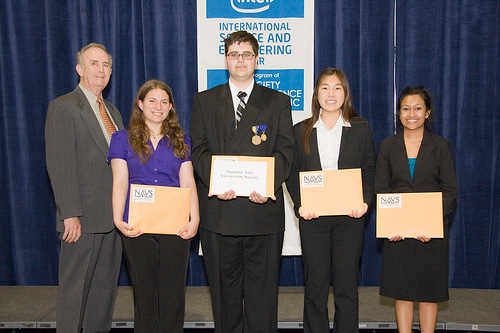 2009
Jane Suh, first place
Microscale Platform for Determining Human Pluripotent Stem Cell Fate
Monica Chowdhury, second place
Neural Network Modeling—An Innovative Time and Cost Efficient Approach for Anti-Cancer Drug Development
Jennifer Draiss, tied for third place
Facial Expression and Its Relationship to Gesture in Western Lowland Gorillas
Alexander Chernyakhovsky, tied for third place
Designing Heterologous Influenza Vaccine for New Pandemic Pathogen Emerging in Humans Infected with Avian Influenza
2008
Shivani Sud, first place
Genomic Strategy to Refine Prognosis and Treatment of Early Stage Colon Cancer
Yale Stern Michaels, second place
A Novel Smart shRNA System for Disease Diagnosis and Therapy
Sushma Kola, third place
Overexpression of Aquaporin-1 in Non-Small Cell Lung Cancer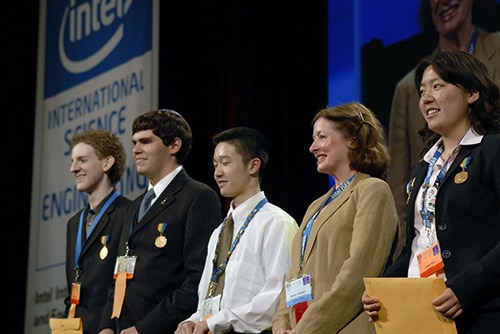 2007
Carol Yoon Joo Suh, first place
Integrated Microfluidic Device for the Development of Human Embryonic
Stem Cells
Dayan (Jack) Li, second place
Thrombospondin-1 Switches Nitric Oxide Function from Inhibitory to Stimulatory for Gene Expression of Human Tumor Endothelial Cell Markers
Alex Ramek and Adam Fields, third place
Detecting Cancer in Living Tissue with Single-Cell Precision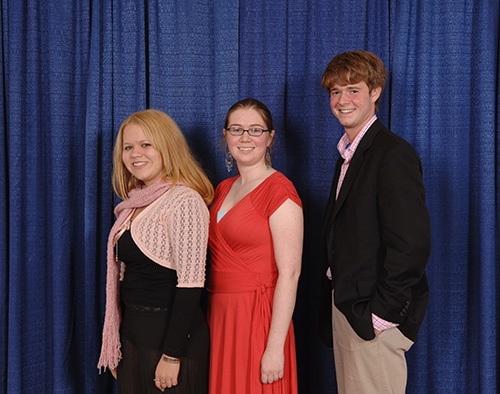 2006
Charles Dyer, first place
The Function of a Novel Apoptosis Regulating Protein, XAF-1C, in Breast Cancer Research.
Anneke Schwob, second place
A Novel Role for Telomerase in Stem Cell Differentiation.
Anelise do Santos Klein, third place
Animal Caring—An Educational Proposal.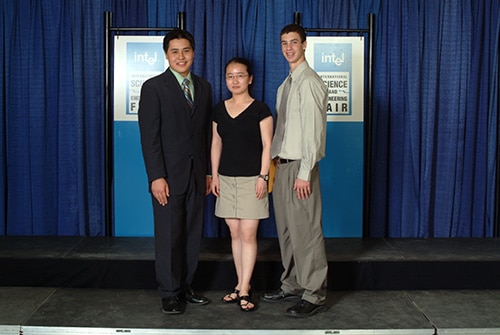 2005
Alan Ho-Yin Gee, first place
Metastable Conformations in the Secondary Structure of the Poly(A) Signal in Human Immunodeficiency Virus Type-1
Jijun Chow, second place
Use of Homology Modeling and Molecular Docking to Map Retinoid Binding Sites on Protein Kinase C
Jeff Silpe, third place
Evaluations of MMP and TIMP Expression in Human Pediatric Brian Tumors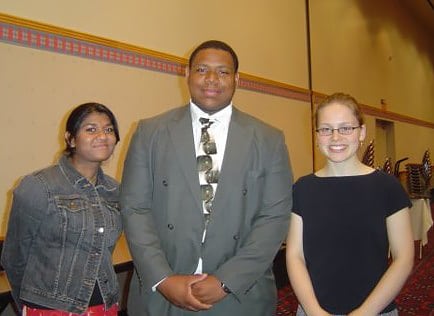 2004
Shamita Chaudhuri, first place 
Microarray Analysis Reveals Glucocorticoid-regulated Survival Genes that Are Associated with Inhibition of Apoptosis in Breast Epithelial Cells
Lascelles Ewen Lyn-Cook, second place
Indole-3-Carbinol Protects Normal Neuronal Cells (HCN-1) and Kills Brain Cancer Cells (SK-N) by Downregulating Clyclooxygenase-2 and Nuclear Factor KAPPA B: In vitro Analyses
Elena Leah Glassman, third place
Brain-Computer Interface for the Muscularly Disabled
2003
Samantha Feingold, first place
Histone Protein Promotion with Trichostatin A on Gene Expression of Human Bladder and Prostrate Cancer Cells
Anna-Katrina Shedletsky, second place
Disease Propagation Through Connective Paths: Application of the Small World Theory to Epidemic Modelling
Nicholas Semenkovich, third place
Using Bioinformatics to Analyze the Effects of Single Nucleotide Polymorphisms on Disease
2002
Megan Hamilton, first place
Can Metabolite Standards Be Produced from Human Hepatic Cells for Use in Forensic Toxicology?