IFER Fellowship Recipient Takes First Place at International Science Conference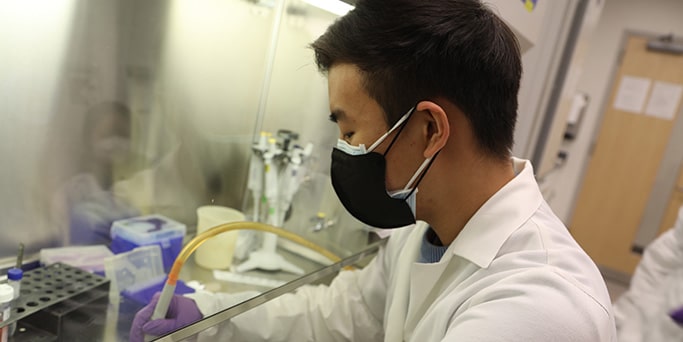 Alan Kim, 2021-22 recipient of the International Foundation for Ethical Research (IFER) Graduate Fellowship for Alternatives to the Use of Animals in Science, was awarded the first-place poster prize at the Microphysiological Systems (MPS) World Summit this summer.
Although animal models are still widely used in toxicological research, Alan chose to work with a human-relevant model instead.
We caught up with Alan recently to talk about his project and about his presentation at the MPS Summit.
Alan's project involves creating a human cell-based model to study synaptogenesis, the formation of synapses between neurons in human brains. Synapses are structures that allow neurons to communicate with one another. Their formation is believed to be disrupted in neurodevelopmental disorders, including autism spectrum disorders.
"We made fluorescent brain organoids using genetically modified stem cells to show how chemical exposures might affect early neurodevelopment," Alan told us. "Making organoids allows us to provide agencies, like the EPA [Environmental Protection Agency], with a reproducible and scalable model to rapidly screen chemicals for developmental neurotoxicity while reducing the reliance on costly and time-consuming animal models."
The brain organoids that Alan is using overcome limitations with animal models in these kinds of studies.
"By using human-derived induced pluripotent stem cells, we have eliminated the species differences that could otherwise have introduced extra variability into our model," Alan explained. "Our 3D brain organoid models allow for the development of a complex network of different cell types similar to the interactions that would occur in the human brain—that's why we call them 'minibrains!' We can also generate hundreds of these organoids at a time, increasing our capacity to characterize the effects of chemical exposures across reproducible samples."
While Alan has been working on this project for some time, the MPS Summit was his first opportunity to formally present his work in a public forum.
"This was my first time at a scientific conference, [and] also my first time making a poster to present, so I was very nervous on how people would react to my work, especially because I would be standing right there to see their reactions," Alan told us. "But as the day went through, I was surprised and happy to see that other people were very excited to see my research and talk to me about the work I did."
Alan's work was well-received not only by fellow participants and attendees, but also by the conference organizers who awarded him the first-place poster prize.
"It felt amazing to have my work validated and appreciated by other researchers in my field," Alan said, "and it greatly helped me in thinking of new ways to push my project in new and improved directions. I'm proud to have been recognized as someone who has contributed towards the field of toxicology, and this has definitely encouraged me to continue my work and push the envelope on what is possible."
We're proud of Alan's recent accomplishment and are honored to count him among the growing number of NAVS/IFER fellowship recipients who are leading the next generation of humane scientists. We wish Alan continued success with his research.