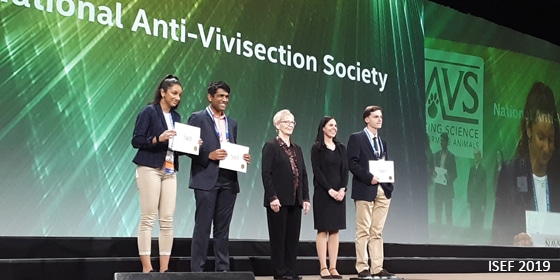 NAVS is proud of the investments we make in not only promoting the value of humane science, but in supporting the development of scientific approaches and models that can reduce, and possibly replace, the use of animals in experimentation.
That is why we are happy to announce that the Regeneron International Science and Engineering Fair (ISEF) (formally Intel ISEF) is back and being held virtually this year!
This is the 19th year that NAVS will attend this science fair—the world's largest science competition for pre-college students—and give our Humane Science Awards to high school students whose projects demonstrate innovation and scientific advancement through the use of alternatives to animal experimentation. We are honored to be the only animal advocacy organization that presents an award at this prestigious event.
Through this award, we not only recognize scientific endeavors that have the potential to replace animal experimentation, but we also provide an important incentive to young scientists to continue pursuing research that does not involve harming animals.
ISEF 2020 was cancelled last year due to the global COVID-19 pandemic and restrictions on travel and mass gatherings. While similar restrictions are still in place, the conference organizers have been working tirelessly to hold the event virtually this year. From what we hear, this year's event is likely to be the biggest ISEF ever, with a record number of students and projects competing.
NAVS has put together a team of six judges to select the finalists and winners of our 2021 Humane Science Award. We will begin reviewing abstracts of the students' projects at the end of this month and will have the opportunity to interview our finalists in early May.
In determining our selections, we look for projects that are scientifically sound and that advance science through the use of alternatives to animal experimentation—especially through the replacement of live animals with non-animal methodologies or through the use of noninvasive projects using animals in an observational setting.
We look forward to sharing more information with you about this year's winners—so stay tuned!