NAVS Recognizes Student Achievements at International Science Fair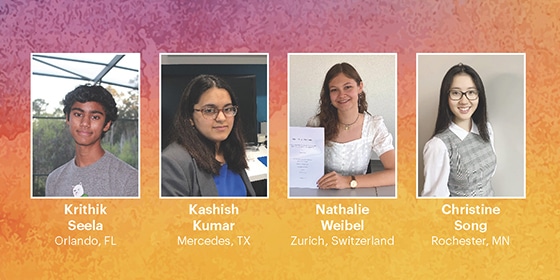 Earlier this month, NAVS judges virtually attended the world's largest science competition for pre-college students, the Regeneron International Science and Engineering Fair (ISEF), where we once again had the pleasure of rewarding excellence in humane science.
This year marked the 19th year of NAVS presenting our Humane Science Awards. These awards recognize projects that demonstrate innovation and scientific advancement without reliance on harmful animal experiments. We are honored to be the only animal advocacy organization that presents an award at this prestigious event.
While the virtually held science fair looked a bit different this year, the students' projects were as impressive as ever. NAVS judges had to select our award winners from more than 1,400 projects submitted by more than 1,800 international finalists competing across 21 categories of science, engineering and mathematics. Our judges reviewed hundreds of their projects and narrowed the field down to nine promising young scientists from whom we selected this year's awardees.
We are pleased to announce the recipients of the 2021 Humane Science Awards, each of whom will receive a cash prize for their outstanding work.
1st Place: In the category of Biomedical and Health Sciences, Christine Song, "Cure of Breast Cancer, Year 4: First Discovery of Target Therapy for Aggressive Hormonal Breast Cancer using Clinical Database and 3D Model"
2nd Place: In the category of Biomedical Engineering, Nathalie Weibel, "Using Fluorescence Imaging to Investigate the Organization of Human Brain Organoids"
3rd Place (Tie): In the category of Translational Medical Science, Kashish Kumar, "Human iPSC-Derived Cardiomyocyte Model Reveals the Transcriptomic Basis of SARS-CoV-2 Infection Induced Myocardial Injury," and in the category of Computational Biology and Bioinformatics, Krithik Seela, "A Novel Computational Approach to Drug Discovery Through Drug Repositioning."
NAVS congratulates these exceptional students for their hard work in advancing better, more humane science. We will be sharing more information about the students' projects, including videos of the students describing their work, in the near future.