The Promise of Body-on-a-Chip Technologies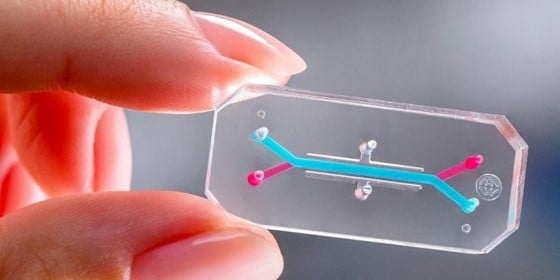 Last month, NAVS attended a virtual meeting hosted by the RegenMed Development Organization and Stem Cell Translational Medicine entitled "Virtual Workshop: User Roadmap for Body-on-a-Chip Technology." We were excited to learn more about the steps that are being taken to advance body-on-a-chip models for drug development and personalized medicine.
As you may recall, a body-on-a-chip model is a sophisticated cell-based model that links together several separate organ-on-a-chip devices. These organ chips replicate and mimic the functions of their real-life counterparts that are found within a human body.
The meeting brought together experts from the life sciences, academia, regulatory agencies, government and data sciences and digital health to outline key user criteria for body-on-a-chip technologies in various disciplines. These criteria will be used to create a road map for the field that will be published in the journal Stem Cells Translational Medicine. Conversations and collaborations among experts from all of these areas are necessary to best understand how to move this field forward in a timely way.

One of the driving factors behind the continued development of in vitro research tools is the inadequacy of animal-based models. NAVS is particularly interested in body-on-a-chip devices and has long advocated for their use, as they have the potential to reduce reliance on animal models in many areas of research.
There has never been a better time to advance the development and use of body-on-a-chip models. Pharmaceutical companies recognize the high failure rate and the high expense of testing drugs in animal models for human clinical trials and see a role for human-relevant body-on-a-chip devices in safety and efficacy testing. Additionally, some of the immune-related therapies that the pharma companies are developing have targets and pathways that are not adequately represented in other animal species and thus need to be tested in human-relevant systems.
However, challenges remain with respect to getting these models more widely used and accepted among the scientific community. Because body-on-a-chip tools connect several individual organ-on-a-chip devices, conference participants discussed the advantages of having more standardized chip platform designs to help link the different organs together. The participants also stressed the importance of having more data and proof cases with these models, as well as the importance of getting regulatory agencies to accept data from them.
We are pleased to see that the scientific community is collaborating on ways to improve individual organ-on-a-chip and body-on-a-chip models, and we are encouraged to see the ways in which researchers have been incorporating these human-relevant tools into their experiments. For our part, NAVS remains committed to our role in funding the development of these smarter, humane tools through the International Foundation for Ethical Research (IFER), as these advancements will benefit humans and animals alike.